Nikon COOLPIX A900
(information from Nikon)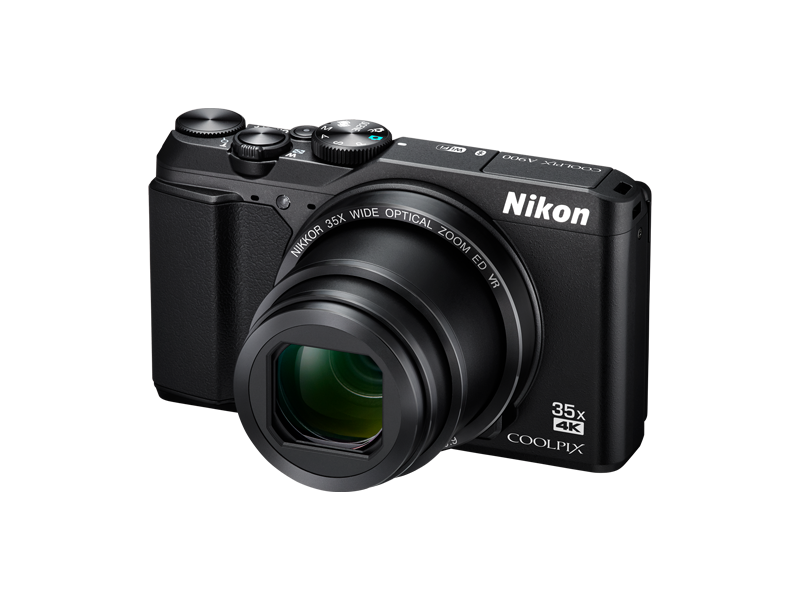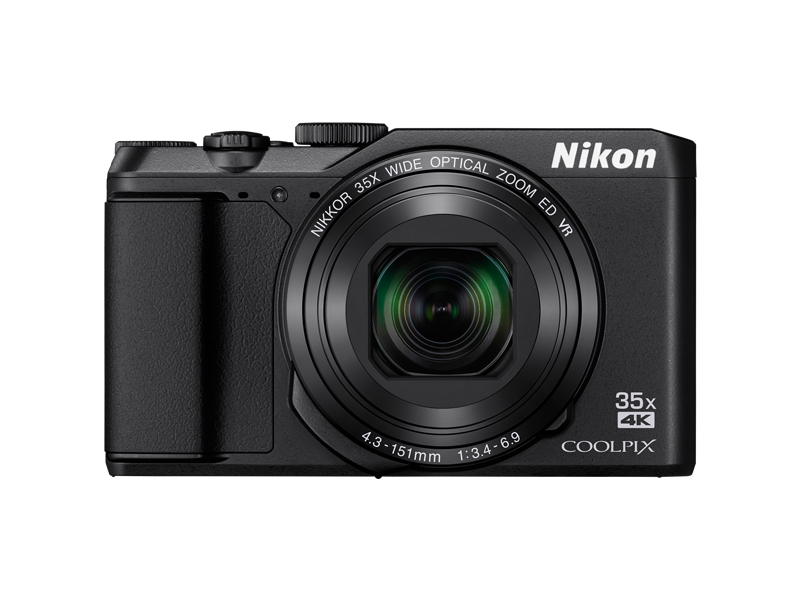 Specifications:
Effective pixels Effective pixels20.3 million
(Image processing may reduce the number of effective pixels.) Image sensor Image sensor1/2.3-in. type CMOS
Total pixels: approx. 21.14 million Lens LensNIKKOR lens with 35x optical zoom Focal length4.3-151 mm (angle of view equivalent to that of 24–840 mm lens in 35mm [135] format) f/-numberf/3.4-6.9 Construction13 elements in 11 groups (4 ED lens elements) Digital zoom magnification Digital zoom magnificationUp to 4x (angle of view equivalent to that of approx. 3360 mm lens in 35mm [135] format) Vibration reduction Vibration reductionLens shift and electronic VR (movies) Autofocus (AF) AutofocusContrast-detect AF Focus range[W]: Approx. 50 cm (1 ft 8 in.)-∞
[T]: Approx. 2 m (6 ft 7 in.)-∞
Macro mode: Approx. 1 cm (0.4 in.)-∞ (wide-angle position)
(All distances measured from center of front surface of lens) Focus-area selectionFace priority, center, manual with 99 focus areas, subject tracking, target finding AF, touch AF Monitor Monitor7.5 cm ( 3 in.),approx. 921 kdot TFT LCD (RGBW) with antireflection coating, and 6level brightness adjustment Frame coverage (shooting mode)Approx. 98% horizontal and vertical (compared to actual picture) Frame coverage (playback mode)Approx. 100% horizontal and vertical (compared to actual picture) Storage MediaSD , SDHC , SDXC File systemDCF and Exif 2.3 compliant File formatsStill images: JPEG
Movies: MP4 (Video: H.264/MPEG-4 AVC, Audio: AAC stereo) Image size (pixels) Image size (pixels) 20M (High) [5184 x 3888★]
20M [5184 x 3888]
8M [3648 x 2736]
4M [2272 x 1704]
2M [1600 x 1200]
VGA [640 x 480]
16:9 15M [5184 x 2920]
1:1 [3888 x 3888]
ISO ISO sensitivity (Standard output sensitivity)ISO 80-1600 Exposure Metering modeMatrix, center-weighted (digital zoom less than 2x), spot (digital zoom 2x or more) Exposure controlProgrammed auto exposure and exposure compensation (–2.0–+2.0 EV in steps of 1/3 EV) Shutter ShutterMechanical and CMOS electronic shutter Speed1/2000-1 s
1/2000–8 s (when ISO sensitivity is fixed at ISO 80, 100 or 200 in S, A, or M mode)
1/4000 s (maximum speed during high-speed continuous shooting)
4 s (Fireworks show scene mode)
25 s (Star trails of Multiple exp. Lighten scene mode)
Self-timerCan be selected from 10 s, 5 s and 2 s Aperture ApertureElectronically-controlled 3-blade iris diaphragm Range7 steps of 1/6 EV (W) (A, M mode) Flash Range (approx.) (ISO sensitivity: Auto)[W]: 0.5–6.0 m (1 ft 8 in.–19 ft)
[T]: 1.5–3.0 m (4 ft 12 in. –9 ft 10 in.) Flash controlTTL auto flash with monitor preflashes Interface USB connectorMicro-USB connector , Hi-Speed USB
Do not use any USB cable other than the UC-E21 for Micro-USB connector.
Supports Direct Print (PictBridge) HDMI output connectorHDMI micro connector (Type D) Wi-Fi (Wireless LAN) StandardsIEEE 802.11b/g (standard wireless LAN protocol) Operating frequency2412–2462 MHz (1–11 channels) AuthenticationOPEN/WPA2-PSK Access protocolsInfrastructure Bluetooth Communication protocolsBluetooth Specification Version 4.1 Supported languages Supported languagesArabic, Bengali, Bulgarian, Chinese (Simplified and Traditional), Czech, Danish, Dutch, English, Finnish, French, German, Greek, Hindi, Hungarian, Indonesian, Italian, Japanese, Korean, Marathi, Norwegian, Persian, Polish, Portuguese (European and Brazilian), Romanian, Russian, Serbian, Spanish, Swedish, Tamil, Telugu, Thai, Turkish, Ukrainian, Vietnamese Power sources Power sourcesOne Rechargeable Li-ion Battery EN-EL12 (included)
AC Adapter EH-62F (available separately) Charging timeApprox. 2 h 20 min (when using Charging AC Adapter EH-71P and when no charge remains) Battery life Still imagesApprox. 270 shots when using EN-EL12 Movie recording (actual battery life for recording)Approx. 50 min (1080/30p) when using EN-EL12 Tripod socket Tripod socket1/4 (ISO 1222) Dimensions / weight Dimensions (WxHxD)Approx. 113.0 x 66.5 x 39.9 mm ( 4.5 x 2.7 x 1.6 in.)
(excluding projections) WeightApprox. 299 g ( 10.6 oz ) (including battery and memory card) Operating environment Temperature0°C-40°C (32°F-104°F) Humidity85% or less (no condensation) Supplied accessories Supplied accessoriesRechargeable Li-ion Battery EN-EL12, Charging AC Adapter EH-71P*, USB Cable UC-E21, Camera Strap
*A plug adapter is included if the camera was purchased in a country or region that requires a plug adapter. The shape of the plug adapter varies with the country or region of purchase.
Nikon Website
Links of COOLPIX A900
Download of COOLPIX A900