Derivatives of Exponential and Logarithmic Functions
Both exponential and logarithmic functions are very important in real world problems. The natural exponential function ex has the base e. And the natural logarithmic function, ln(x) is the inverse of the natural exponential function. The constant e is an important constant in finding limits and derivatives also.
Constant
e
The number e is base of the natural logarithm. The number e is a constant sometimes known as Napier's constant, named after the Scottish mathematician John Napier who introduced logarithms. The mathematical constant e is also called Euler number with its symbol honors Swiss mathematician Leonhard Euler.
The constant e is an irrational number. The numerical value of e to 10 decimal places is 2.7182818284.
Definition of
e
There are many ways to define the mathematical constant e. The number e can be defined as the limit of: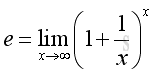 For x approaching +∞, there always exists a pair of integers such that:
Imply: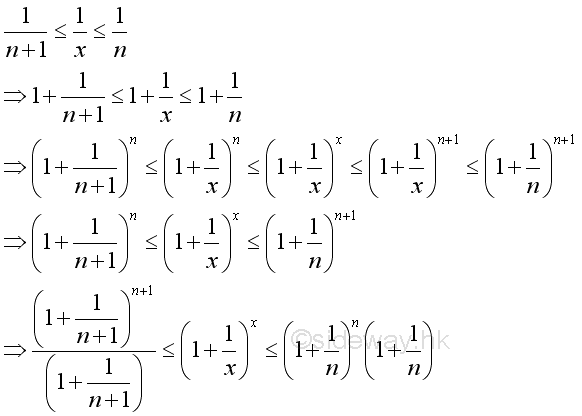 Since the following limits exist and are equal to 1:
and

Imply:

And if limits exist when n approaching +∞, that is: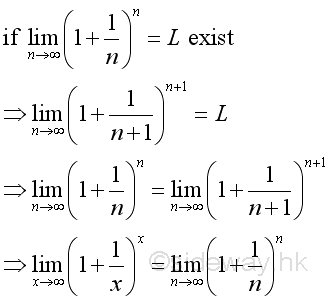 Therefore the limit when x approaching +∞ can be proved by the limit when integer n approaching +∞. And using Binomial Theorem to expand the terms in the bracket of the limit goes up to n, where n approaching +∞: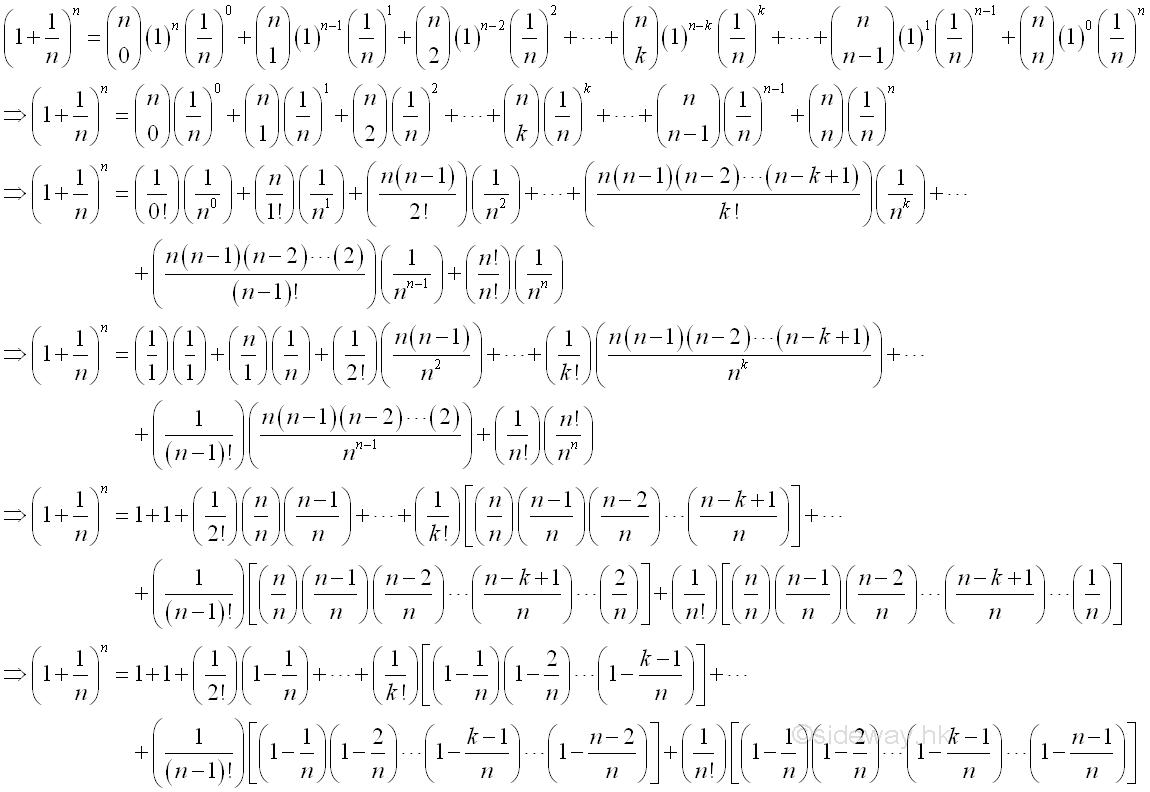 Therefore the limit when n approaching +∞ is: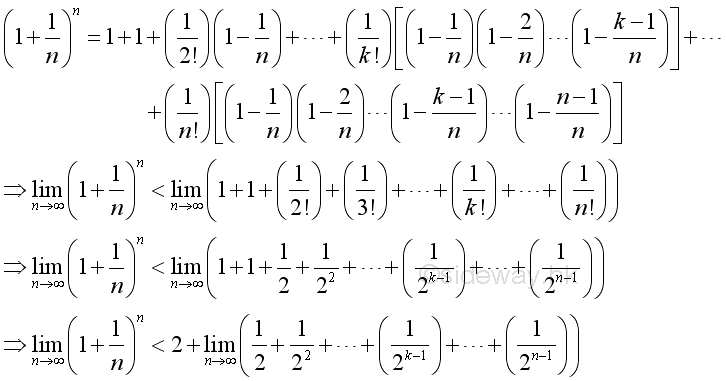 The limit on the RHS when n approaching +∞ is: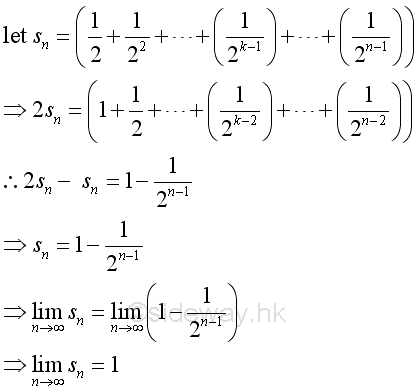 The limit on the LHS when n approaching +∞ exists:

Therefore the limit of the series exists:

For x approaching -∞, let x=-y then: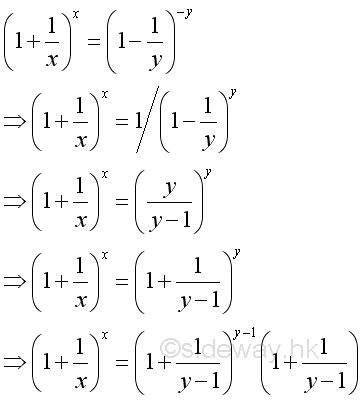 As shown before, when y approaching +∞, imply: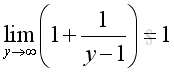 and

Therefore, when x approaching ∞, imply: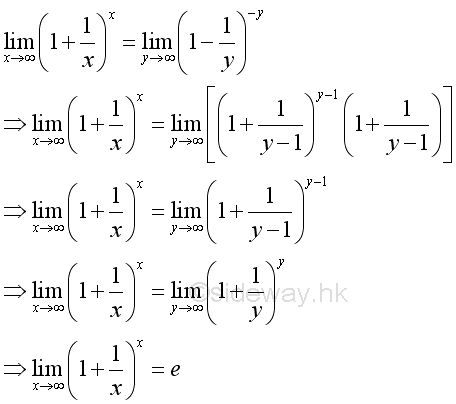 Another Definition of
e
Similarly, the limit can be rewritten for x approaching 0, imply:

Define constant
e

as a sum of infinite series

Besides, as shown in the binomial expansion, the limit can also be expressed as:

After rearrangement, imply: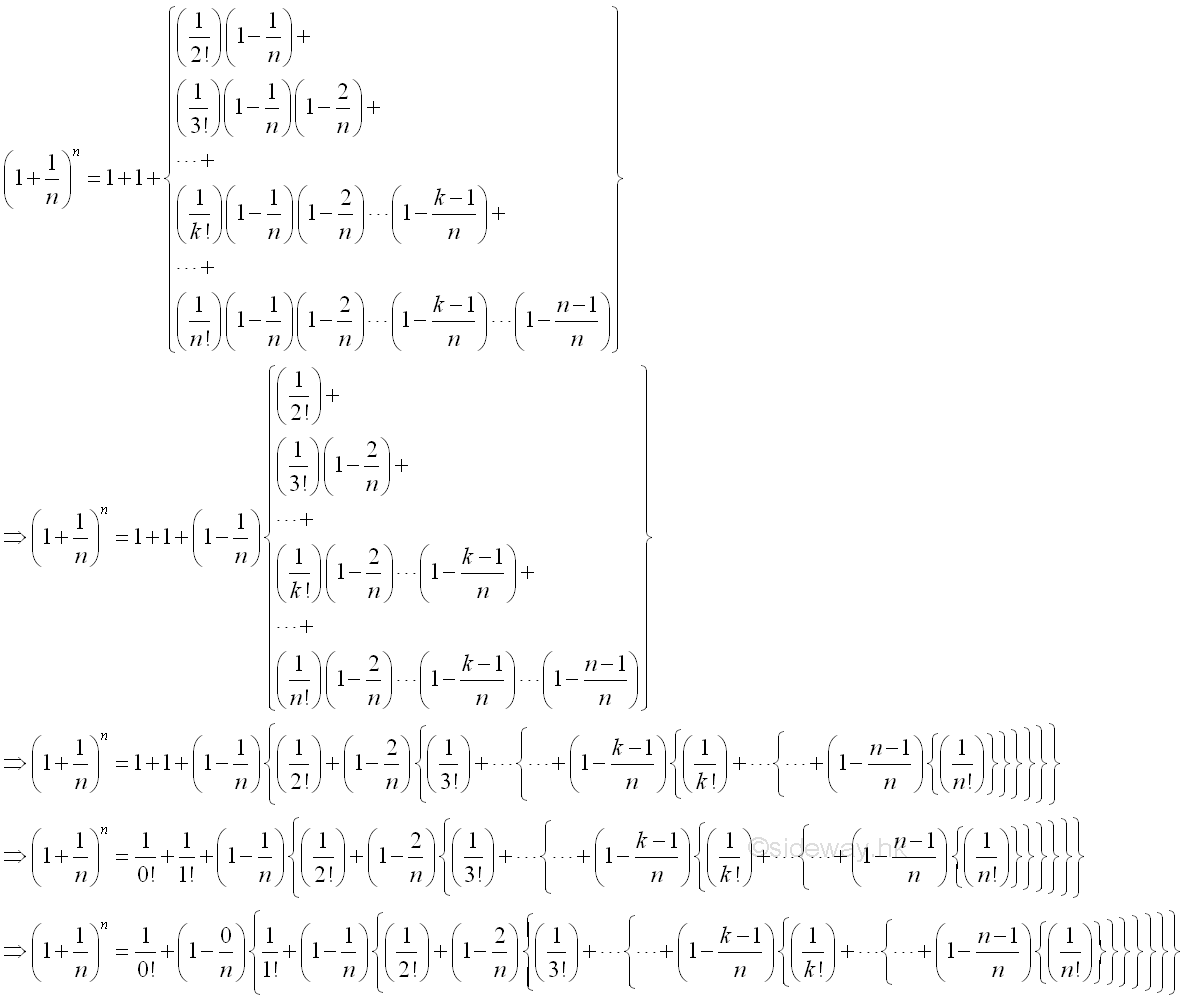 Consider the k term, when k=1: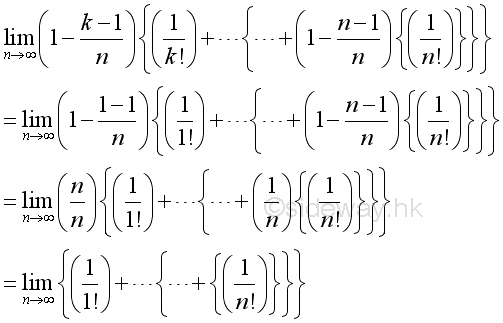 Consider the k term, when k=n-1: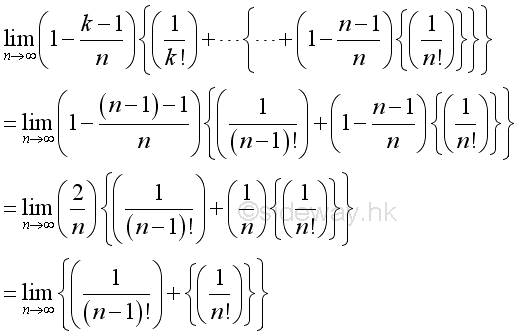 Therefore the numeric value of k term is bounded and since n approaching ∞, for every k there is a n term such that n>>k:

Imply when n approaching ∞, the limit of k term can be approximated by:

Therefore when x approaching ∞, the limit of can be approximated by: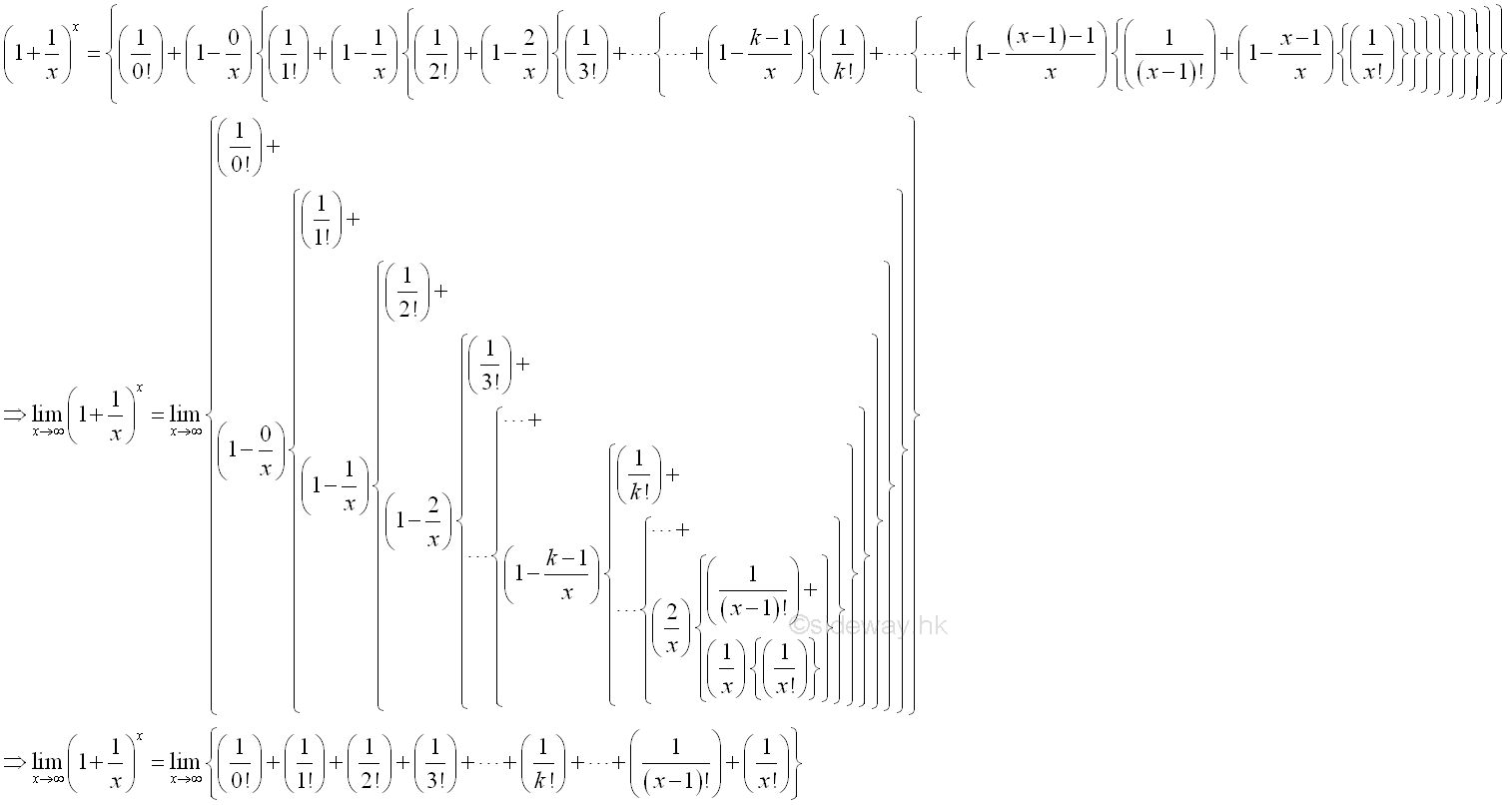 Imply:

Definition of Natural Exponential Function
The Natural Exponential Function can be expressed as: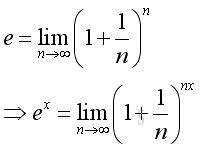 Let m=nx, since n approaching ∞, there must exist a numeric value such that m is an integer, imply: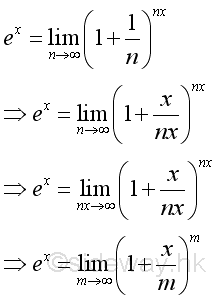 Using Binomial Theorem to expand: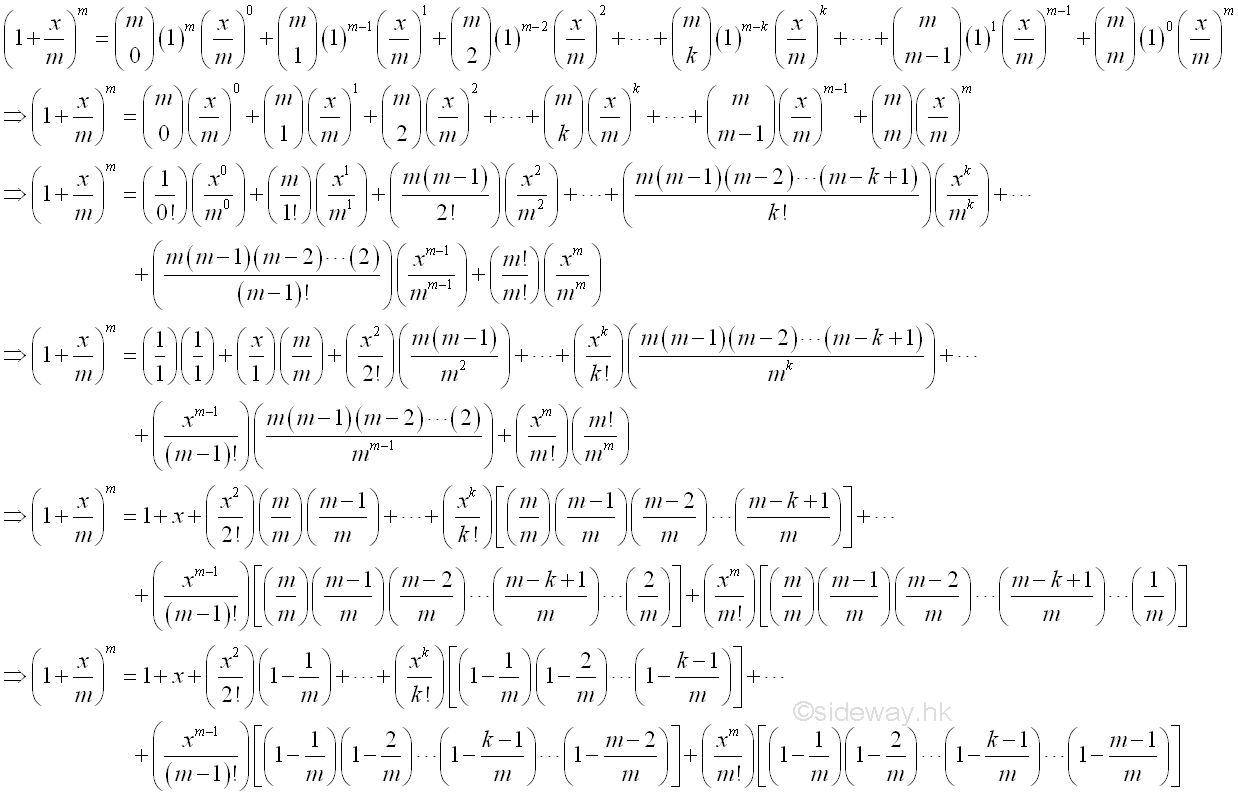 The limit is equal to :

Similar to define the Euler number, the natural exponential function is equal to :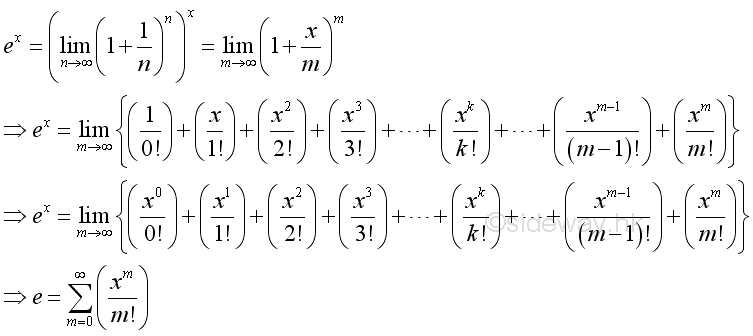 Derivatives of Exponential and Logarithmic Functions
Derivative of Natural Exponential Function

Proof:

Or:

Derivative of Exponential Function

Proof:

Derivative of Natural Logarithmic Function

Proof:

Proof for the power function when n is a real number:

Derivative of Logarithmic Function

Proof:

Or: