Energy Density of Electric Field
Electric field has energy associated with its existence.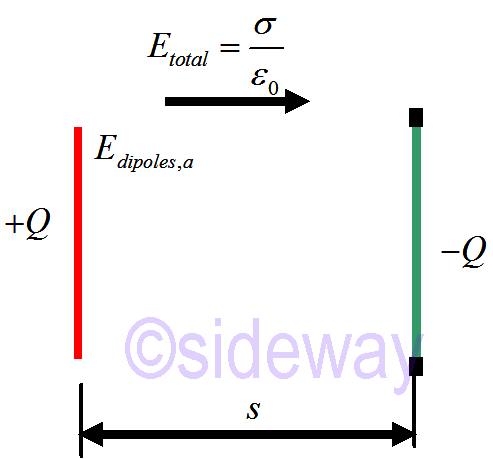 If one charged plate in the capacitor is fixed, an another charged plate is moved due to the induced electric field. Word done due to the fixed plate is.
𝐸tot=𝜎𝜀0=𝑄𝐴𝜀0⇒𝐸fix=𝜎2𝜀0=𝑄2𝐴𝜀0⇒𝑄=𝐸tot𝐴𝜀0=2𝐸fix𝐴𝜀0 𝑊=∫𝐹∙𝑑𝑟=∫𝑞𝐸∙𝑑𝑟=∫𝑄𝑄2𝐴𝜀0𝑥∙𝑑𝑥=𝑄22𝐴𝜀0𝑠∫0𝑑𝑥=𝑄2𝑠2𝐴𝜀0  =𝐸tot𝑄𝑠2=12𝜀0𝐸2tot𝑠𝐴 ⇒𝑊𝑠𝐴=12𝜀0𝐸2tot=𝑈𝑉𝑜𝑙= Energy Density of Electric Field
Magnetic Field
Moving charged particles make a magnetic field, which is different from an electric field. The needle of a magnetic compass aligns with the direction of the net magnetic field at its location. A current is a continuous flow of charge. Electron current is a number of electrons per second entering a section of a conductor. Conventional current (Coulombs/second) is opposite in direction to the electron current, and is assumed to be due to positively charged particles. The superposition principle can be applied to calculate the expected magnetic field from current-carrying wires in various configurations. A current-carrying loop is a magnetic dipole. A bar magnet is also a magnetic dipole. Even a single atom can be a magnetic dipole.
Eartg's Magnetic Field
|𝐵
Earth
|~20 microTesla=2×10
−5
𝑇; typical 𝑁𝑑 Magnet~1𝑇. The axis of Rarth magnet field is tilted by 11.3 degrees from the Earth rotational axis. In fact, magnet field sign reversals happens throughout Earth's history.
Biot-Savart Law of a Point Charge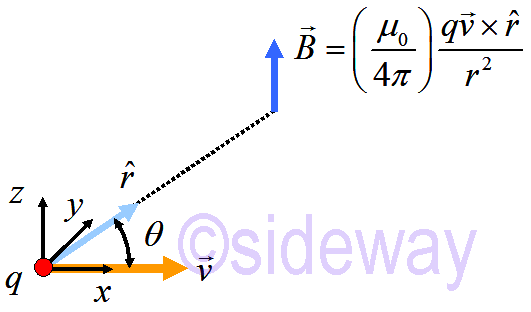 Moving charges create a magnetic field.
𝐵=𝜇04𝜋𝑞𝑣×𝑟|𝑟|2
𝑞 = charge; 𝑣 = velocity of charge; 𝑟 = observation point (charge at origin);
𝜇04𝜋≡1×10−7Tesla∙m∙sCoulomb
The cross product follows the right hand rule. The resulting vector has the magnitude:
|𝑣×𝑟|=|𝑣||𝑟|sin 𝜃
Source and Reference
https://www.youtube.com/watch?v=ovlGI02gMx4&list=PLZ6kagz8q0bvxaUKCe2RRvU_h7wtNNxxi&index=11