Ampere's Law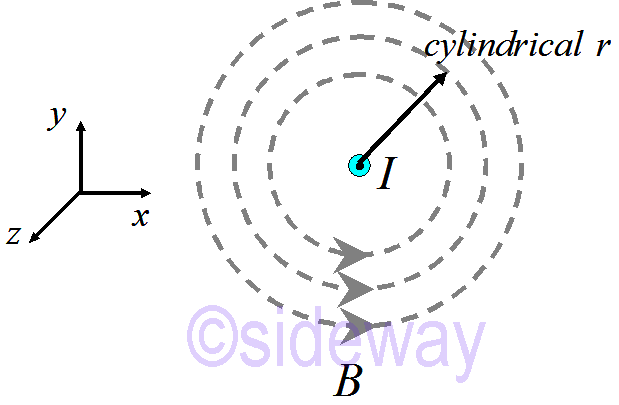 For a very long wire, the current in the wire create a cylindrical pattern of Magnetic field
𝐵
=
𝜇04𝜋
2𝐼𝑟
𝜃
. The line integral along one circle is
∮ 𝐵⋅𝑑𝑙=∮ 𝜇04𝜋2𝐼𝑟𝜃⋅𝑑𝑙=𝜇04𝜋2𝐼𝑟∮ 𝜃⋅𝑑𝑙
∵𝑑𝑙, 𝑑𝜃 tangent to circle
∴𝑑𝑙=𝑟𝑑𝜃⇒∮ 𝜃⋅𝑑𝑙=𝑟∮ 𝜃𝑑𝜃=2𝜋𝑟
⇒∮ 𝐵⋅𝑑𝑙=𝜇04𝜋2𝐼𝑟(2𝜋𝑟)=𝜇0𝐼enclosed Ampere's Law for long wire
On each circle: magnetic field 𝐵∝
1𝑟
and circumference 𝐶∝𝑟.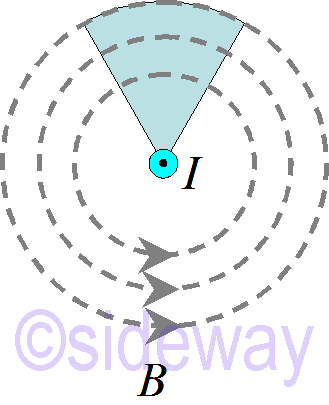 In any segment, the contribution from any cylindrical shell is the same.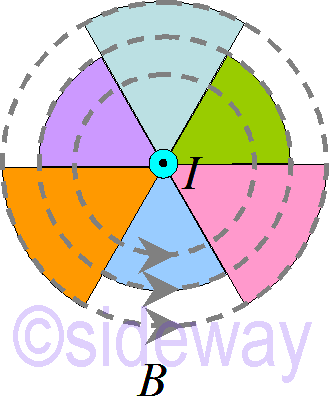 Since magnetic field of any outer cylindrical shell surface is always the same. The magnetic field of any closed surface formed by any outer cylindrical shell surfaces is always the same.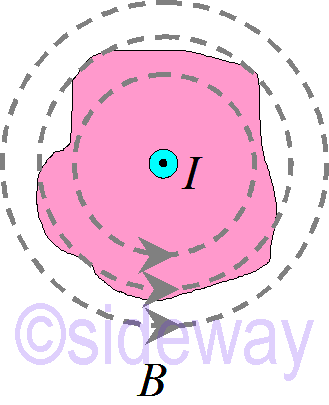 Similarly, by limit the segment to infinite small segment, the enclosed surface can be refined to surround the current in wire with any smooth shape by following different shperes in different places with the same magnetic field.
Source and Reference
https://www.youtube.com/watch?v=xEYMxHOvTcU&list=PLZ6kagz8q0bvxaUKCe2RRvU_h7wtNNxxi&index=23